International Sports Law and Policy Bulletin 1/2015

THE FIFA REGULATIONS ON WORKING WITH INTERMEDIARIES.
ITS IMPLEMENTATION AT NATIONAL LEVEL

Michele Colucci (ed.)
On 1 April 2015 the new FIFA landmark regulations on intermediaries entered into force. They define the concept of intermediary as
"a natural or legal person who, for a fee or free of charge, represents players and/or clubs in negotiations with a view to concluding an employment contract, or represents clubs in negotiations with a view to concluding a transfer agreement".
Now, anyone with an impeccable reputation and no conflict of interest qualifies as an Intermediary. The condition of an impeccable reputation is satisfied if the national association obtains a duly signed ( Intermediary Declaration and the registration of the representation contract.
In that regard, FIFA has established a new two-steps registration procedure in view of upgrading the transparency in this field:    First, a registration of the intermediary with the relevant national association; second, a systematic formal registration of each transaction carried out by the intermediary.
By focusing on the transaction activities rather than on the access to the profession, FIFA regulations aim to better protect the integrity of football and the interests of sports stakeholders. Indeed, on the one end the footballers engage the intermediaries in order to wrangle for the best contracts and the clubs' managers rely on them to get the best players at the best conditions.
In this new legal context, the FIFA rules set minimum standards to be implemented by the national associations, which have the possibility to adopt even stricter requirements.
Eventually, different implementing national measures shall lead to many differences in the way the activity of intermediaries will be exercised, remunerated, and monitored in each national association.
Therefore those who are interested in transferring a player to a given country are obliged to know the regulations of the relevant national association. This book offers as starter an in-depth analysis of the FIFA regulations, which is followed by 39 country reports. A comparative analysis will review the sources and the impact of the national discrepancies on sports stakeholders. Finally, it will underline the best practices at national level as an added value for the benefit of all FIFA national Associations.
(in corso di pubblicazione)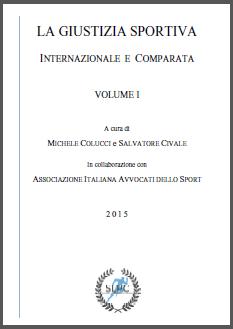 LA GIUSTIZIA SPORTIVA

a cura di Michele Colucci e Salvatore Civale

in collaborazione con Associazione Italiana Avvocati dello Sport

Sports Law and Policy Centre, 2015

Opera completa, Euro 100,00
ISBN 978-88-940689-0-0

Volume I: La Giustizia Sportiva Internazionale e Comparata
Euro 60,00
ISBN 978-88-940689-1-7

Volume II: La Giustizia Sportiva Nazionale
Euro 60,00
ISBN 978-88-940689-2-4

Teaser - Modulo d'ordine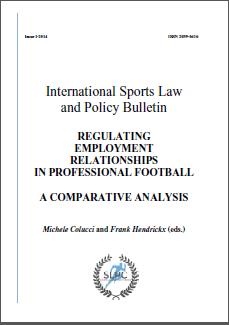 REGULATING EMPLOYMENT RELATIONSHIPS IN PROFESSIONAL FOOTBALL
A COMPARATIVE ANALYSIS

Michele Colucci and Frank Hendrickx (eds.)

International Sports Law and Policy Bulletin 1/2014

ISBN 978-88-905-114-8-6, 470 pages

TEASER
Les contrats de sponsoring sportif

Jean-Michel Marmayou, Fabrice Rizzo

Coll. Les intégrales, Lextenso éditions 2014